Resource recovery business
Using the latest vehicles to achieve
both efficiency and eco-friendliness
We efficiently recover waste resources in line with the wishes of our customers.
We are of course careful to drive safely, but the motto of Tobe-Shoji's recovery business is also to actively utilize liquefied petroleum
gas (LPG) vehicles and take other steps to achieve recovery for which the environment is considered.
Key points related to our
recovery business
A reliable track record that includes ministries and government offices as well as major chains.
We receive requests from various customers, including ministries and government offices, local governments, cooperatives, major fast food chains, railway companies, and sports facilities. To ensure that we are able to respond to any kind of need, we always hold advance meetings and conduct research.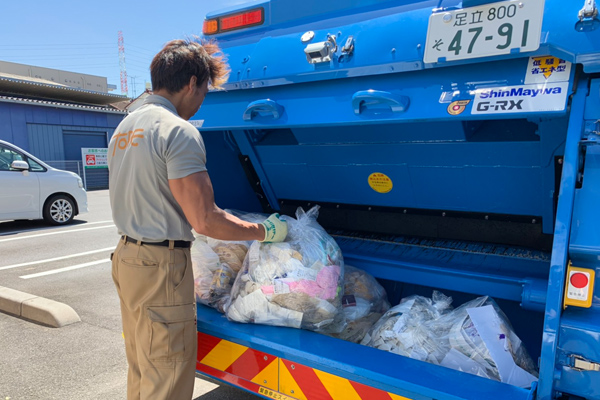 Utilizing vehicles that are friendly to both people and the environment.
In addition to our garbage trucks, which are our main vehicles, we have flatbed trucks, large wing-body trucks, container trucks with desorbers, light vehicles, etc., and measurement is also possible. We are also introducing LPG and natural gas (CNG) vehicles, which emit clean exhaust gas.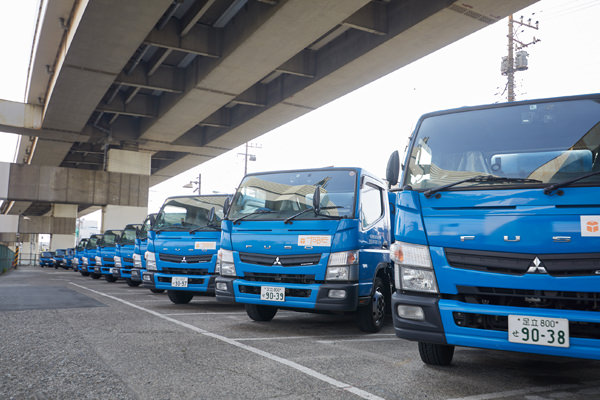 Efforts in collaboration
with Seven-Eleven Japan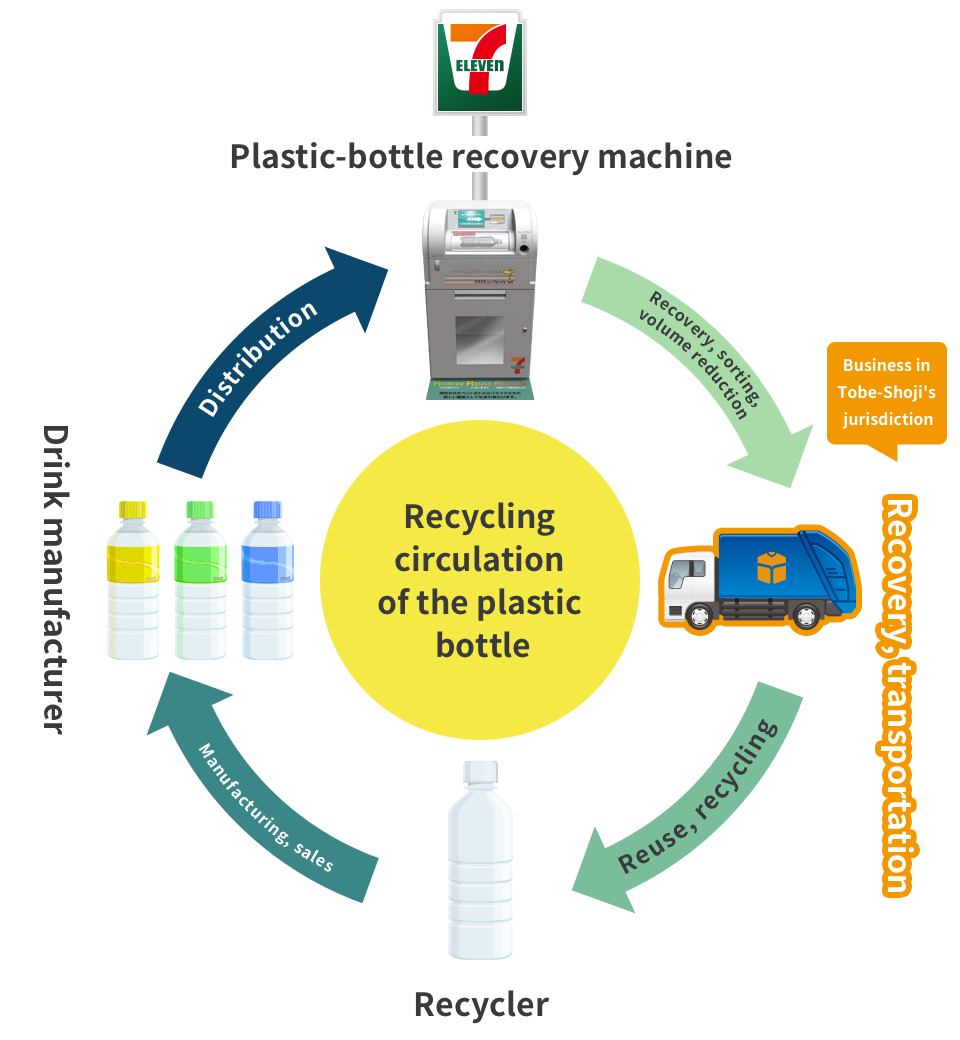 Plastic-bottle recovery machines
Plastic-bottle recovery machines have been installed at some Seven-Eleven stores in Tokyo and Saitama Prefecture. Tobe-Shoji transports waste plastic bottles from these stores to recovery and recycling companies in order to support the promotion of plastic bottle reuse.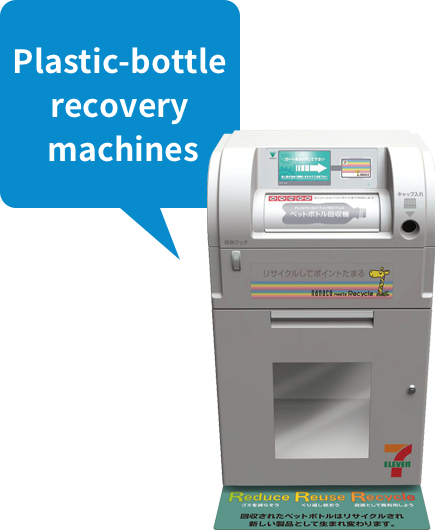 A deodorizing disinfectant made of recycled coffee grounds
Seven-Eleven has developed a deodorizing disinfectant that uses the coffee grounds resulting from the grinding of coffee beans at its stores, and the company utilizes this to clean its stores. Tobe-Shoji recovers coffee grounds from the stores and transports them to processing factories.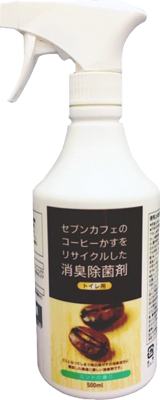 Resource recovery business
when holding events
Total support to provide
peace of mind even to first-time customers
Holding events results in a lot of garbage regardless of the event scale.
Tobe-Shoji, which has been involved in resource recovery at many events,
provides total support that includes advance preparation and
handling garbage recovery on the day of the event itself.
Key points related to our
resource recovery business
when holding events
No problems regardless of the scale.
The events that Tobe-Shoji has been asked to handle include everything from one-day events to long events spanning a month, including music, sports, and various other types of events. We handle everything related to the complex but important task of garbage recovery.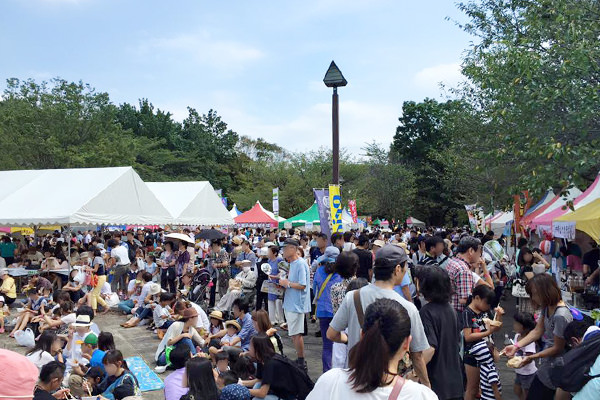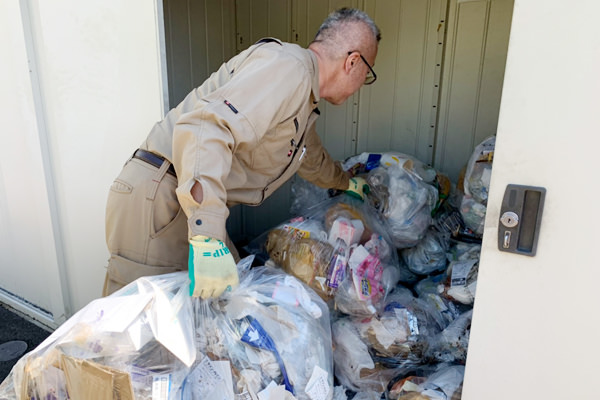 Advice on operations related to garbage recovery on the day of the event as well.
During meetings, we propose the optimal garbage sorting method and recovery plan in line with the event scale and type. We also provide detailed operational advice for the day of the event to give even customers who are holding events for the first time peace of mind.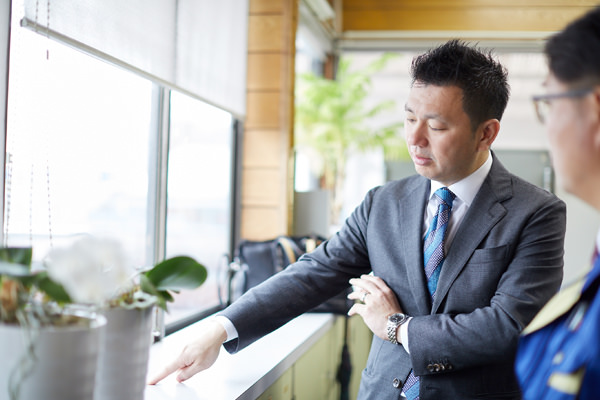 Resource recovery business
during office relocation
Recovery of garbage during office relocation,
which is otherwise a hassle
Tobe-Shoji offers proposals to cover all the recovery of the various types of garbage resulting from office relocation.
Tobe-Shoji recycles reusable garbage. We transport other garbage to the final disposal site.
We also deal with other hassles related to relocation,
including the destruction of electronic recording media and the processing of confidential documents.
Key points related to our
resource recovery business
during office relocation
Destruction of hard disks
in front of customers.
We use destroyers to subject hard disks and other recording media to destructive pressure. This takes only 15 to 20 seconds. We can also destroy such media in front of our customers and take photos before and after the process as proof of destruction.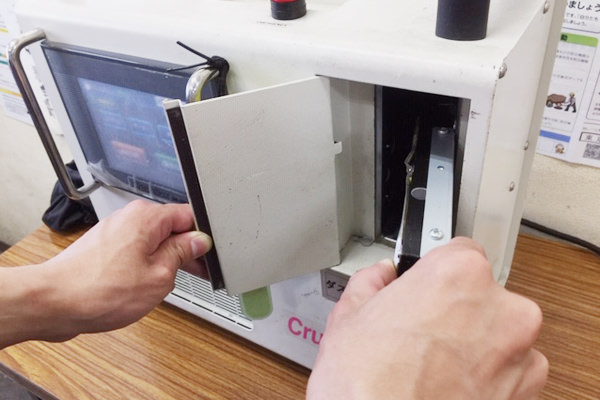 Careful consideration
of privacy.
We can also safely process confidential documents that require delicate handling. Tobe-Shoji transports any received documents to specialized disposal companies, processes the documents, and issues dissolution certificates. We are committed to protecting the privacy of our customers.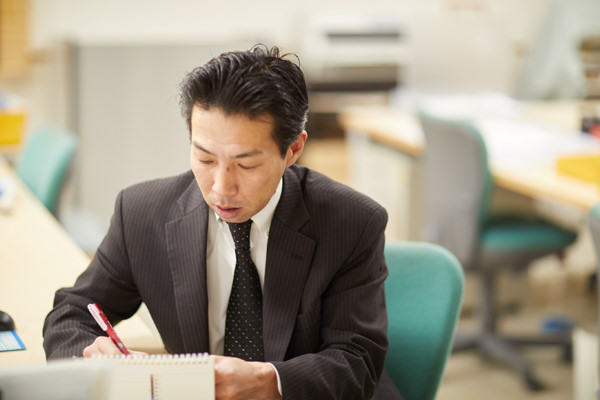 Confidential-information destruction process
Hard disk destruction
Recovery locations: offices, etc.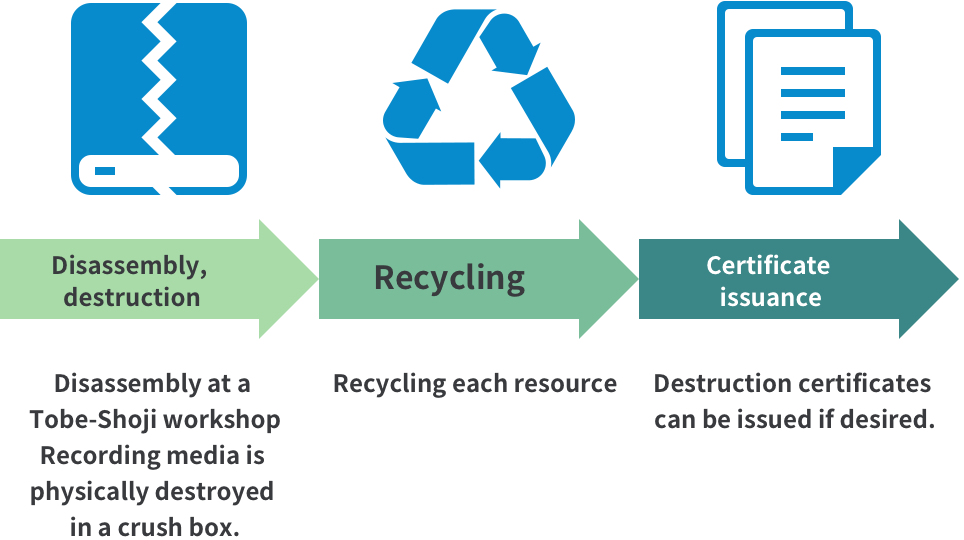 Confidential-document destruction
Recovery locations: offices, etc.